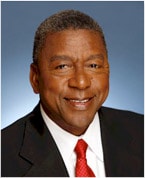 Robert L. Johnson
Chairman of the Board
Robert L. Johnson is the Founder and Chairman of The RLJ Companies, an innovative business network that owns or holds interests in a diverse portfolio of companies in the banking, private equity, real estate, hospitality, professional sports, film production, gaming and automobile dealership industries. In July 2007, Johnson was named by USA Today as one of the 25 most influential business leaders of the past 25 years.
Core assets of The RLJ Companies include: RLJ Lodging Trust, RLJ Equity Partners, RLJ Credit Opportunity Fund, RLJ Acquisition, RLJ Financial, RLJ Insurance Services, RolloverSystems, RLJ Western Asset Management, Bobcats Sports & Entertainment, Caribbean CAGE, Our Stories Films, and The RLJ Kendeja Resort & Villas.
Prior to forming The RLJ Companies, Mr. Johnson was founder and chairman of Black Entertainment Television (BET), the nation's first and leading television network providing quality entertainment, music, news, sports and public affairs programming for the African American audience. Under Mr. Johnson's leadership, BET became the first African American-owned company publicly traded on the New York Stock Exchange. In 2001, Mr. Johnson sold BET to Viacom for approximately $3 billion and remained the Chief Executive Officer through 2006.
Currently, Mr. Johnson serves on the following boards: KB Home, Lowe's Companies, Strayer Education, NBA Board of Governors, Deutsche Bank Advisory Committee, The Business Council, and Smithsonian Institution's National Museum of African American History and Culture.
---